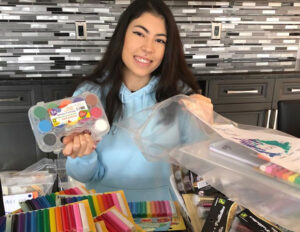 The gift of volunteering your time with creArt Foundation is invaluable to us.
We are always looking for help in areas such as communications, sponsorship drives, teaching and workshops planning.
If you are interested in volunteering with us,
please email us at info@creartfoundation.com
Arts Education is essential for youth and children to develop properly. At creArt, we make learning a FUN experience!
creArt continues to reach out to local groups and communities to provide support and offer our art workshops to children and youth.
Come and see all the great artwork the students have been creating. Behind the scenes look at our students learning new techniques.
Cierra made art online so much fun

Cierra made art online so much fun for my son Alex ! He was engaged for the entire workshop and didn't want to stop! He is looking forward to his next workshop.
Lisa G (mom)
Thank you!

Thank you for your generous donation of providing art workshops for the children in our shelter. With your help we are able to offer the level of services that are critical in helping so many families build a better future.
Red Door Family Shelter
Cierra's art classes are a lot of fun!

Cierra's art classes are a lot of fun!  I really enjoyed making mini clay animals!
Alex G. (Age 15)
The youth are forever grateful

The quality of your art and the care you put into educating the youth, goes a long way to improving the mental health and wellbeing of our young residents. A participant shared her art piece with me once, explaining; she didn't think she was capable of making such a piece. 
Youth Without Shelter 
I love Cierra's art workshop!

I had a great time making the optical illusion drawing! I love Cierra's art workshop!
Monica  (Age 13)
Thankful for your Foundation

It's an honour to work with creArt and Cierra Johnson. We look forward to working together in the years to come in support of access to quality art learning tools for remote Indigenous students in Canada.
Miigwetch. Thank you
Collen Gray, Art For Aid
It was fun!

I learned about the colour wheel and how to use cubism to make a Picasso portrait! It was fun!
Sofia (Age 8)
We love creArt's Workshops 

The creArt program provided the children and youth with the opportunity to try new art activities, engage with others during the isolating times of Covid-19 and lastly to have fun! The children, youth, and their families, all loved the program and continue to show interest in the future workshops.
360 Kids Youth Shelter
We send out a quarterly newsletter to let you know what's new at CreArt and upcoming events!