Cierra Johnson is the Founder and President of creArt Foundation. She is completing her Bachelor of Fine Arts degree at York University, Toronto, CANADA, renowned for its Fine Arts Program. Cierra's passion for Art has allowed her to develop personally, emotionally and professionally. She wants to share her experience with others so that they too can have these opportunities for the future.
creArt Foundation workshops are focused on helping children and youth in Communities across the Province. These FREE Art workshops will allow children to experience art with no boundaries. Children and youth will have a safe place to openly express themselves and learn something new!
One hundred percent of all donations are used towards the purchase of art supplies for our "creArt paks". Since our workshops are conducted online due to the pandemic, creArt has very little overhead costs.

creArt Foundation is a registered Canadian not-for-profit Organization which offers FREE online art workshops (including supplies) to children and youth in challenged home environments.
The arts have the transformative and energetic power to create social change. Expressing oneself through art can help channel negative feelings brought on by stress, bullying or depression. It can help initiate a child's creativity, build their self-confidence, assist with collaboration skills, critical thinking skills and bring about more cultural awareness. 
creArt's 12 week workshops run twice a year. Our Fall Session is September to December and Winter Session is January to April! We hope to inspire children and youth to explore their creative side and develop a love for art even after they have completed our workshops. 
creArt seeks private and corporate donations to help purchase supplies for the "creArt paks". These art paks are then hand distributed to the participants household or family shelter prior to the start of the first workshop.
We encourage each participant to imagine, create and inspire!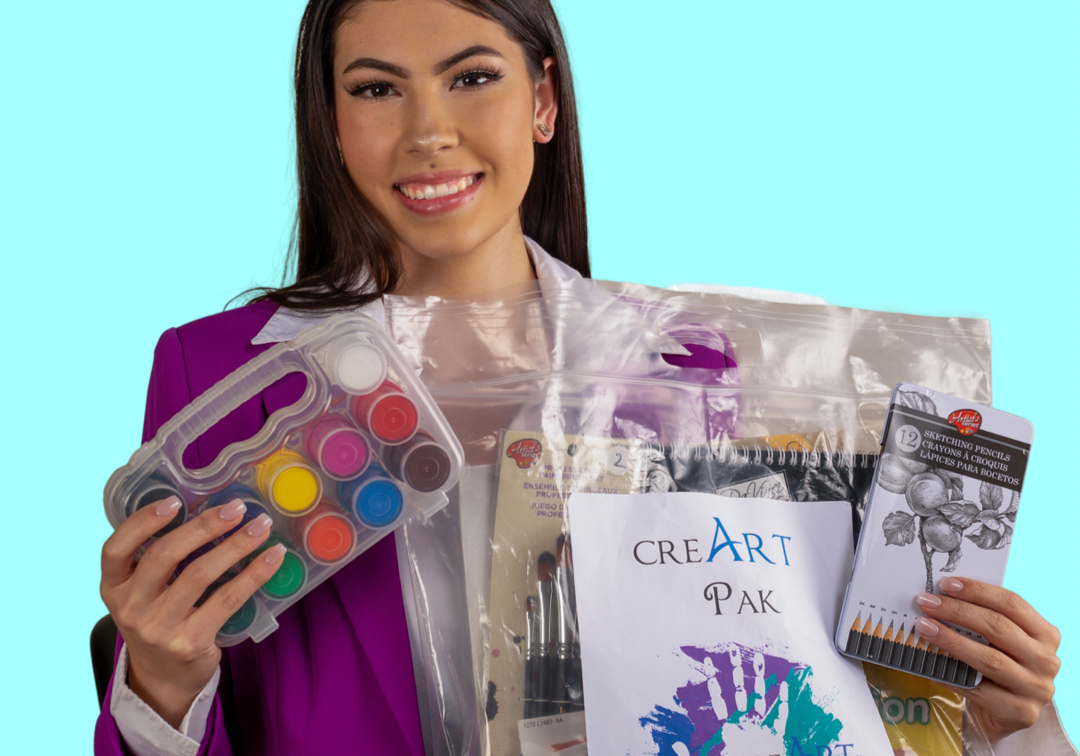 creArt 's mission is to enrich the lives of youth ages 6-15 in challenged home environments, by utilizing art therapy as a form of positive self-expression.  Providing free art supplies and workshops, children are given the opportunity to release their stress in a fun and safe environment. Our goal is to help youth gain confidence, to expand their creative minds and assist with their individual growth, to prosper a brighter future.
creArt Foundation workshops are focused on helping youth in communities across Canada and the Globe. These FREE Art workshops allow children the opportunity to experience art without boundaries. Click here to learn more about our workshops or to sign up!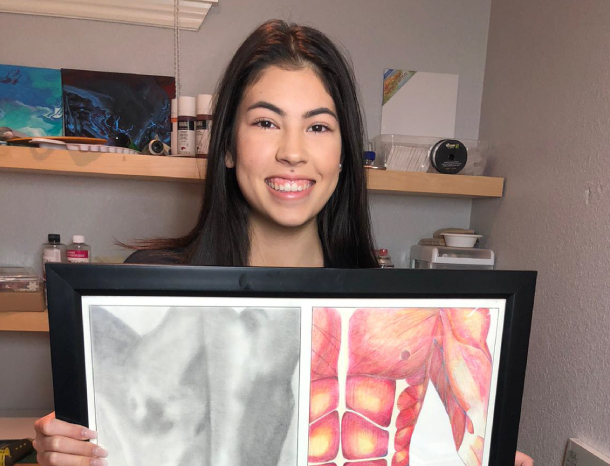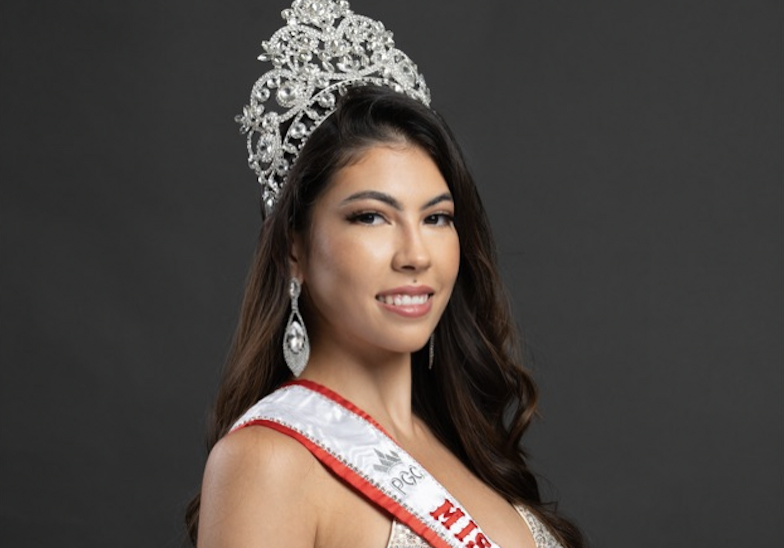 During this difficult time with so much uncertainty around us, Art can assist with promoting positive mental health. creArt is active within the community and has partnered with Youth and Family Homeless shelters across the GTA to offer our support.
creArt continues to reach out to local groups and communities to provide support and offer our art workshops to children and youth who need it most.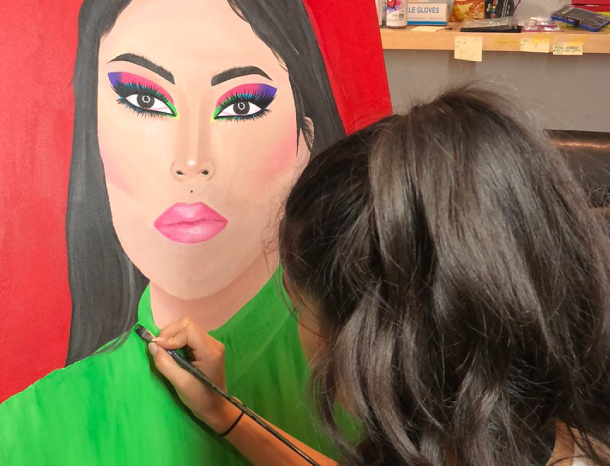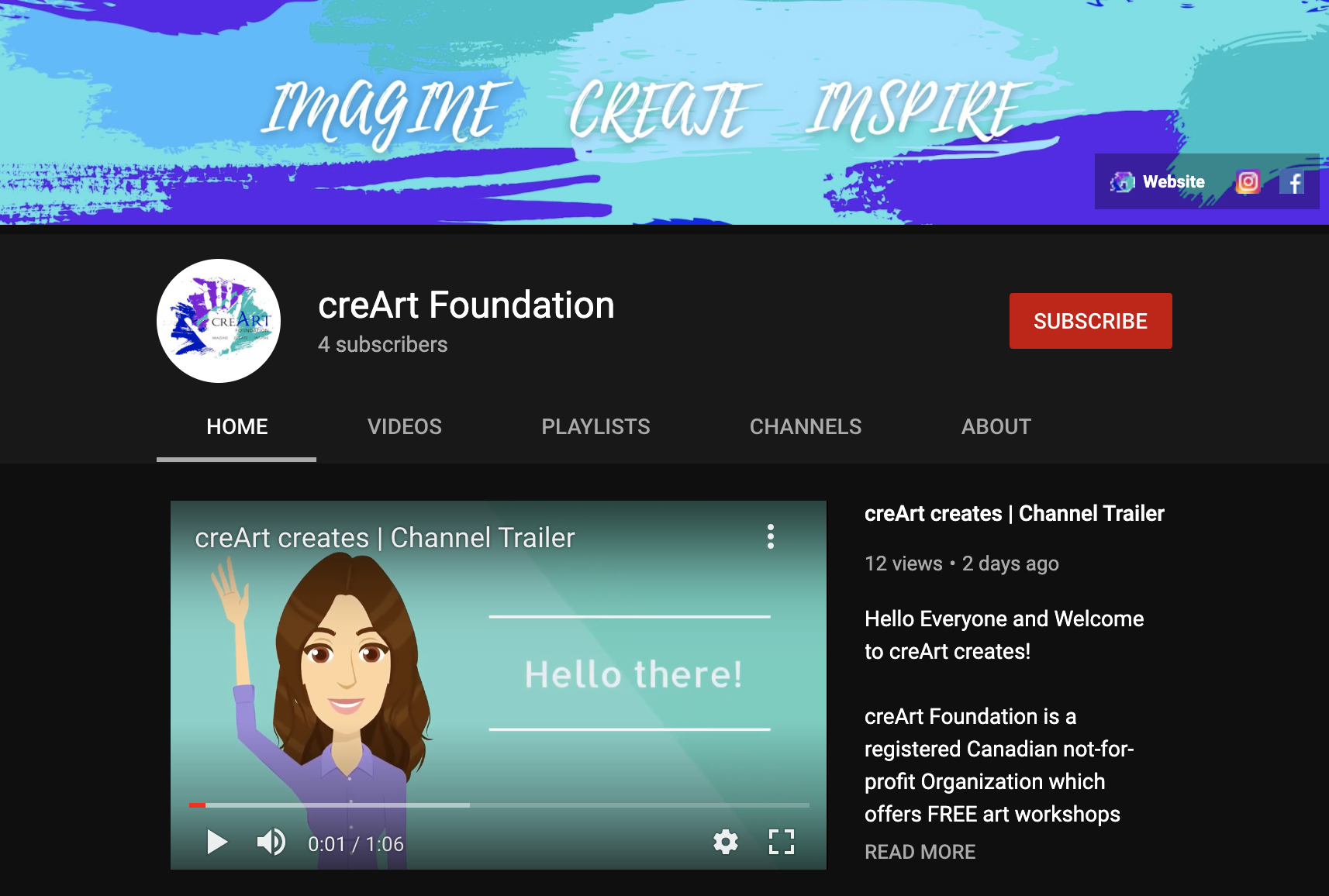 Follow creArt Foundation on all our social media for more updates! Follow our Instagram page @creArtFoundation, Our Facebook Page @creArtFoundationCanada and now, our Youtube channel! This art channel is dedicated to posting tutorials, class projects and more!
Arts Education is essential for youth and children to develop properly. At creArt, we make learning a FUN experience!
creArt continues to reach out to local groups and communities to provide support and offer our art workshops to children and youth.
Come and see all the great artwork the students have been creating. Behind the scenes look at our students learning new techniques.
Cierra made art online so much fun

Cierra made art online so much fun for my son Alex ! He was engaged for the entire workshop and didn't want to stop! He is looking forward to his next workshop.
Lisa G (mom)
Thank you!

Thank you for your generous donation of providing art workshops for the children in our shelter. With your help we are able to offer the level of services that are critical in helping so many families build a better future.
Red Door Family Shelter
Cierra's art classes are a lot of fun!

Cierra's art classes are a lot of fun!  I really enjoyed making mini clay animals!
Alex G. (Age 15)
The youth are forever grateful

The quality of your art and the care you put into educating the youth, goes a long way to improving the mental health and wellbeing of our young residents. A participant shared her art piece with me once, explaining; she didn't think she was capable of making such a piece. 
Youth Without Shelter 
I love Cierra's art workshop!

I had a great time making the optical illusion drawing! I love Cierra's art workshop!
Monica  (Age 13)
Thankful for your Foundation

It's an honour to work with creArt and Cierra Johnson. We look forward to working together in the years to come in support of access to quality art learning tools for remote Indigenous students in Canada.
Miigwetch. Thank you
Collen Gray, Art For Aid
It was fun!

I learned about the colour wheel and how to use cubism to make a Picasso portrait! It was fun!
Sofia (Age 8)
We love creArt's Workshops 

The creArt program provided the children and youth with the opportunity to try new art activities, engage with others during the isolating times of Covid-19 and lastly to have fun! The children, youth, and their families, all loved the program and continue to show interest in the future workshops.
360 Kids Youth Shelter
We send out a quarterly newsletter to let you know what's new at CreArt and upcoming events!